Intro
Several commentators have noted recently that, while I have plenty of critique for 350, Klein, Romm, and the climate cynics who have given up hope, I have not taken aim at fossil fuel companies, climate change denying Congress people, corruption in the US political system, or the cancerous doctrine of eternal economic growth.
"Who is the enemy?" One commenter asked—it seems like you think it's the cynics! Another agreed, "Evil ignored is evil condoned."
Dear readers, there is a method to my madness. In this post, I will discuss the goals and strategy for this blog and my thoughts on where the movement is at.

Goals
This blog has a singular goal: to fight climate change. To my mind, the only way humanity will have a chance of continuation is if we build, very quickly, a Human Climate Movement that fundamentally alters the national mood, waking the public up from their denial of the imminent threat of climate change. This movement must gain the political clout to launch a WWII style and level response against climate change.
Though I remain open to (and highly desirous of) alternative strategy proposals, I have yet to hear one articulated which would give humanity a fighting chance. Most groups and writers do not articulate comprehensive plans, making it impossible to evaluate or collaborate on strategy proposals. Will 350's efforts on Keystone and divestment solve climate change? Clearly not. They would argue that they are just getting started. But I think they have an obligation to their membership, and to humanity, to engage in an open conversation about strategy. The Citizen's Climate Lobby does articulate their plan, which relies heavily on conventional lobbying tactics, and aims to institute a carbon tax and end fossil fuel subsidies. I have serious doubts about their ability to succeed with their tactics, even worse, doubts that their advocacy is too modest to stop climate change, even if they were to succeed. I am also skeptical of any effort that advertises its "grass roots participation" and "leaderlessness" as major benefits, without explaining why this lack of organization is strategically beneficial. But I'm getting ahead of myself.
So, until I hear a plan that gives humanity a better chance of survival, I'm sticking with a WWII advocacy. I think that I may not have articulated well how radical of an advocacy this is, or how significant the implications of a WWII advocacy are for capitalism, fossil fuel companies, and others who are willfully lying to humanity, leading us down the road to destruction.
Remember, before WWII, were the 1930s and the Great Depression, still the period in US history in which wealth was most unequally distributed (though we are getting ever closer to repeating it.) The New Deal helped, of course, but it was really WWII that turned conditions in the US around, ushering in a multi-decade era of relative equality (See table from the Center on Budget and Policy Priorities).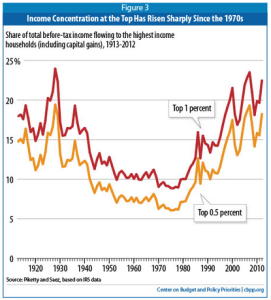 During some years in WWII, the United States devoted 36% of GDP (!) to the war effort, or the equivalent of 5.6 trillion dollars, per year. The highest income tax bracket rose to 94%. The government intervened in industry in a way that has never happened before or since in the United States. After Pearl Harbor was attacked on December 7th, 1941, the United States focused with a singular purpose on winning the war. Economic concerns were secondary and consumer luxury was not considered at all. Shared sacrifice was assumed. As historian Doris Kearns Goodwin writes:
In the summer of 1942, the accustomed rhythms of daily life were disrupted in every factory, business, and home by the institution of rationing and price control… By and large, American housewives accepted the system of rationing cheerfully. When butter became scarce, they added a yellow dye to margarine to make it look like butter. When sugar was cut back, they substituted corn syrup and saccharin in cakes and cookies. They planted Victory Gardens in their backyards. They saved kitchen fats and exchanged them at the butcher shop for points. …By the end of November, government regulations extended into almost every aspect of American life. Shortages of iron and steel prohibited the manufacture of a wide range of consumer items, including electric refrigerators, vacuum cleaners, sewing machines, electric ranges, washing machines and ironers, radios and phonographs, lawn mowers, waffle irons, and toasters. The use of stainless steel was prohibited in tableware. Shoe manufacturers were ordered to avoid double soles and overlapping tips; lingerie makers were limited to styles without ruffles, pleating, or full sleeves. (P 355, 394)
The war effort came first. Capitalism came second. Everything else came second. Citizens from across society were actively engaged in the war effort, and major steps in equality were made in multiple spheres racially, between the sexes, and economically. With the shameful exception of Japanese internment, it was a time of major progress on several fronts. 
So, a WWII advocacy has, nestled within it, an equality agenda, a citizen engagement agenda, an equality agenda and a very strong regulatory agenda.  There is also a justice agenda. During a war, people who side with the enemy or undermine the war effort are traitors. Which is a crime. Until a war is declared, their acts against humanity are not, technically, actionable crimes.
Strategy
I write for a singular purpose, to build a social movement that brings a Climate War about. To wake up humanity to the danger that we are in; to the fact that we are under attack, are in great danger, and desperately need to fight back. I will write scathing pieces about fossil fuel executives, crooked politicians, and other traitors to humanity if I viewed it as beneficial to this purpose. At the moment, however, I do not believe it is.  At the moment, the strategic imperative is to build the movement, to empower the movement, to organize the movement, and to unite the movement.
All it takes for evil to triumph is for good men to do nothing. If I was writing in German in the 1930s and 40s, I wouldn't target Nazi's for criticism. I wouldn't view that as productive. I would have made clear that I considered their actions evil, but I would aim my criticism at ordinary Germans, at complicity. I would attempt to rally a resistance.
In this case, all it takes for evil to triumph is for good people to continue their current protestations against evil. To continue talking about evil rather than organizing in order to effectively fight it.  The environmental movement has failed. Not to blame them for this failure: We have all failed, the environmentalists at least tried! Every political party, every organized religion, every corporation, and every individual has failed to stop our planet's relentless march towards catastrophe. We need to recognize that failure, learn from it, and regroup. I doubt very much that I can change the minds of Rex Tiller, Exxon Mobile CEO or Jim Inhofe. But I do think I can contribute to planning, organizing, and growing the Human Climate Movement. Though I am predominantly addressing people already deeply concerned about climate change, I am not "preaching to the choir." I am attempting to turn people who are deeply concerned into people who are deeply active.  I am attempting to help people who are already active think through their activities to achieve maximal results. I am attempting to unity disparate factions of the Human Climate Movement. I am trying to turn "the choir" into an army. I hope you join me.